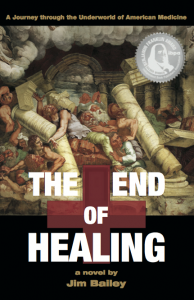 This story will change your perspective on the U.S. medical system forever… and give you the insight you need to find real healing in today's world.
Benjamin Franklin Silver Award Winner • Popular Fiction
"Jim Bailey's brilliant first novel narrates the journey of a young healer into the depths of a modern healthcare hell that parallels the path taken by Dante Alighieri through his Inferno 700 years ago … The End of Healing is a must read for anyone hungry for a spiritual context to help them understand the true forces at work in American healthcare and our path to a better future."
—PHYLLIS TICKLE, founding religion editor, Publishers Weekly
"In the muckraking style of Upton Sinclair, Dr. Jim Bailey has written a modern-day The Jungle …" —ForeWord Reviews
"A riveting read that is highly recommended for community library collections…." —Midwest Book Review
"[Bailey] takes us deep into the world of health care's injustices and distortions….All of us are served by [his] extraordinary diligence and artful weaving of facts and painful epiphanies into a familiar story." —John Goodson, MD, Harvard Medical School, SGIM Forum
Jim Bailey pulls back the exam room curtain to reveal a giant healthcare industry spiraling out of control. The End of Healing gives voice to victims of our dysfunctional healthcare system and those launching a national movement to reclaim health care that heals.